AKG 3100H00150 DYNAMIC BASS DRUM/INSTRUMENT MIC
Email when stock available
Features:
Gimme some bass
The Perception P2 high-performance dynamic bass microphone delivers a profound, high-energy low end for use on kick drums, trombones and bass amps. Its cardioid polar pattern reduces feedback and crosstalk coming from other instruments behind the microphone.
The Perception P2 comes in a rugged, all-metal housing to withstand tough on-the-road conditions. An integrated stand adapter makes the microphone very easy to use. The package also includes a carrying case for safe transport and storage.
Powerful sound with profound bass range
– Especially tuned for low-pitched instruments
High-performance capsule
– Withstands extreme sound pressure levels
Built-in hum compensation coil
– Rejects EMC noise for the cleanest sound
Rugged wire-mesh cap and sturdy die-cast metal body
– Withstand tough day-to-day stage use
Integrated stand adapter
– For easy mounting on mic stands
Specifications:
Audio frequency bandwidth
20 – 16000 Hz
Sensitivity
2.5 mV/Pa
Electrical impedance
400 Ohms
Recommended load impedance
2000 Ohms
Polar Pattern
Cardioid
Dimensions
Length
130 mm
Height
132 mm
Diameter
60 mm
Net Weight
400 g
Design
Body
metal
Finish
black
Audio Output
Type
Balanced XLR
Gender
Male
Contacts
3-pin
Application
Live Instrument
Yes
Instrument
Guitar Amps / Bass Amps
Yes
Drums / Percussion
Yes
Horns / Woodwinds
Yes
What's in the Box
Package Content's
1 x P2 Microphone
1 x Microphone Bag
Manufacturer Part No:
3100H00150
Brand:
AKG
Product Type:
–
UPC
–
Product Family:
–
Shipping Weight:
1.01 kg
PB Part No:
AUDAKG0145
Product Model:
–
Warranty:
12 months *
* Warranty period is as stated above unless the manufacturer has chosen to specify a longer period.
All warranties are return to base unless otherwise specified.
Why is there a reasonable price displayed?
Discover the reason behind our incredibly reasonable prices! At our company, we prioritize your satisfaction and work tirelessly to offer you access to top-notch brands without breaking the bank. Our commitment to minimizing profit margins enables us to deliver affordability without compromising on quality. Shop with confidence and explore a wide range of reputable products at budget-friendly rates. Your satisfaction is our priority!
AKG 3100H00150 DYNAMIC BASS DRUM/INSTRUMENT MIC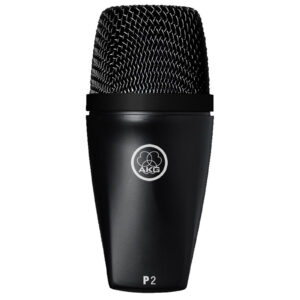 Gimme some bass The Perception P2 high-performance dynamic bass microphone delivers a profound, high-energy low end for use on kick drums, trombones and bass amps. Its cardioid polar pattern reduces feedback and crosstalk coming from other instruments behind the microphone. The Perception P2 comes in a rugged, all-metal housing to withstand tough on-the-road conditions. An integrated stand adapter makes the microphone very easy to use. The package also includes a carrying case for safe transport and storage. Powerful sound with profound bass range - Especially tuned for low-pitched instruments High-performance capsule - Withstands extreme sound pressure levels Built-in hum compensation coil - Rejects EMC noise for the cleanest sound Rugged wire-mesh cap and sturdy die-cast metal body - Withstand tough day-to-day stage use Integrated stand adapter - For easy mounting on mic stands
Product SKU: 3100H00150
Product Currency: NZD
Price Valid Until: 1970-01-01
Product In-Stock: SoldOut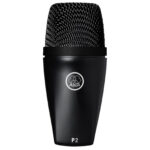 AKG 3100H00150 DYNAMIC BASS DRUM/INSTRUMENT MIC
Your review
* Review is required
Email
* Email is required
Add photos or video to your review