AAEON UP System A20 UP-GWS01.INTEL CPU x5-z8350.4G memory,32G eMMC.A1.1
Out Of Stock
Roll over image to zoom in
Click to open expanded view
Email when stock available
Features:
Compact in Design: 95mm x 91mm x 37mm (WxLxH)
Palm-sized compact system design for space-constrained surroundings.
Flexible Connectivity
UP-GWS01 offers optional WIFI and default Giga LAN. Designed to connect to cloud and server with ease.
IoT Support
Through powerful Intel® x5-Z8350 CPU plus various I/O expansion and connectivity, UP-GWS01 is fit for applications of all sizes. From factory automation gateway, security management, digital signage, to personal home application gateway.
– Intel Atom® x5-Z8350 Processor SoC
– Onboard DDR3L Memory
– Onboard eMMC Storage
– Gigabit LAN x 1, USB 2.0 x 4, USB 3.0 x 1, HDMI x 1
– Optimized Fanless Cooling Design
– Wi-Fi (Optional)
– No eDP/ MIPI-CSI/ 40pin HAT/ CPLD internally
Frequently asked questions
Can I swap out parts and/or add/change/remove operating systems in a PB Tech PC?
We can add any part to a PC for a small fee as long as we don't need to remove an existing part for it to fit, for example adding more RAM, an extra hard drive, installing a Windows OS, or adding a graphics card to a PC without one (we can even SLI/Crossfire for you if it is compatible). We cannot change components that are part of an existing build e.g. Upgrade an existing graphics card or add a SSD with Windows installed if the PC only has a single hard drive (as the OS is already pre-installed). If you do have a specific requirement, then one of our experienced sales team will be happy to build a system that suits your needs.
Contact our WebSales team here
What parts are used in this PC?
The parts are subject to change depending on stock availability but the specifications listed in the title will always be correct. If you have specific parts you are after, one of our experienced sales team will be happy to build a system that suits your needs.
Once again, you can
contact our WebSales team here
Specifications:
SYSTEM
CPU
Intel Atom® x5-Z8350 Processor (2M Cache, 1.44 GHz up to 1.92 GHz)
MEMORY
Onboard DDR3L memory
GRAPHICS
Intel® HD Graphics 400, 12 EU Gen 8, up to 500MHz Support DX*11.1/12, Open
GL*4.2, Open CL*1.2 OGL
ES3.0, H.264, HEVC (decode), VP8
STORAGE
Onboard eMMC
ETHERNET
Gb LAN x 1
WIFI/BT
Wi-Fi (Optional)
EXPANSION SLOT
–
SECURITY
–
OS SUPPORT
Windows® 10, Linux, Windows® 10 IoT core
I/O PLACEMENTS
USB
USB 2.0 x 4, USB 3.0 x 1 (OTG)
DISPLAYPORT
HDMI x 1
ETHERNET
Gb LAN x 1
COM
–
AUDIO
HDMI x 1
GPIO
–
POWER SUPPLY
POWER REQUIREMENT
5V/4A DC Only
POWER SUPPLY TYPE
–
POWER CONSUMPTION (TYPICAL)
–
MECHANICAL
MOUNTING
–
DIMENSIONS (W X H X D)
3.74″ x 3.58″ x 1.46″ (95mm x 91mm x 37mm)
NET WEIGHT
–
GROSS WEIGHT
–
ENVIRONMENT
OPERATING TEMPERATURE
32°F ~ 104°F (0°C ~ 40°C)
OPERATING HUMIDITY
0% ~ 90% relative humidity non-condensing
STORAGE TEMPERATURE
–
MTBF
–
CERTIFICATION
CE/FCC Class A
Manufacturer Part No:
UP-GWS01-A20-0432-A11
Brand:
AAEON
Product Type:
–
UPC
–
Product Family:
UP System A20
Shipping Weight:
1 kg
PB Part No:
WKSAAEA20003
Product Model:
–
Warranty:
12 months *
* Warranty period is as stated above unless the manufacturer has chosen to specify a longer period.
All warranties are return to base unless otherwise specified.
Why is there a reasonable price displayed?
Discover the reason behind our incredibly reasonable prices! At our company, we prioritize your satisfaction and work tirelessly to offer you access to top-notch brands without breaking the bank. Our commitment to minimizing profit margins enables us to deliver affordability without compromising on quality. Shop with confidence and explore a wide range of reputable products at budget-friendly rates. Your satisfaction is our priority!
AAEON UP System A20 UP-GWS01.INTEL CPU x5-z8350.4G memory,32G eMMC.A1.1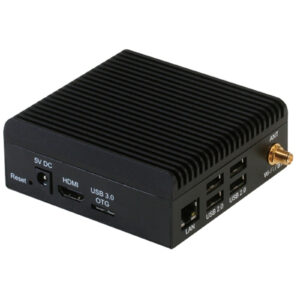 Compact in Design: 95mm x 91mm x 37mm (WxLxH) Palm-sized compact system design for space-constrained surroundings. Flexible Connectivity UP-GWS01 offers optional WIFI and default Giga LAN. Designed to connect to cloud and server with ease. IoT Support Through powerful Intel® x5-Z8350 CPU plus various I/O expansion and connectivity, UP-GWS01 is fit for applications of all sizes. From factory automation gateway, security management, digital signage, to personal home application gateway. - Intel Atom® x5-Z8350 Processor SoC - Onboard DDR3L Memory - Onboard eMMC Storage - Gigabit LAN x 1, USB 2.0 x 4, USB 3.0 x 1, HDMI x 1 - Optimized Fanless Cooling Design - Wi-Fi (Optional) - No eDP/ MIPI-CSI/ 40pin HAT/ CPLD internally Frequently asked questions Can I swap out parts and/or add/change/remove operating systems in a PB Tech PC? We can add any part to a PC for a small fee as long as we don't need to remove an existing part for it to fit, for example adding more RAM, an extra hard drive, installing a Windows OS, or adding a graphics card to a PC without one (we can even SLI/Crossfire for you if it is compatible). We cannot change components that are part of an existing build e.g. Upgrade an existing graphics card or add a SSD with Windows installed if the PC only has a single hard drive (as the OS is already pre-installed). If you do have a specific requirement, then one of our experienced sales team will be happy to build a system that suits your needs. Contact our WebSales team here What parts are used in this PC? The parts are subject to change depending on stock availability but the specifications listed in the title will always be correct. If you have specific parts you are after, one of our experienced sales team will be happy to build a system that suits your needs. Once again, you can contact our WebSales team here
Product SKU: UP-GWS01-A20-0432-A11
Product Brand: AAEON
Product Currency: NZD
Price Valid Until: 1970-01-01
Product In-Stock: SoldOut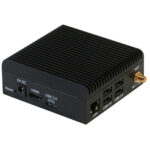 AAEON UP System A20 UP-GWS01.INTEL CPU x5-z8350.4G memory,32G eMMC.A1.1
Your review
* Review is required
Email
* Email is required
Add photos or video to your review